Tenda CP7 Security Pan Tilt Camera 4MP Home Security IP CCTV Camera Wireless WiFi Smart Cam Pet Baby Tracking
Brand: Tenda
Code: TENDA-CP7
The Tenda CP7 Security Pan Tilt Camera is a high-performance home surveillance camera that offers 360° visual coverage with a resolution of 4MP. It is equipped with full-duplex two-way audio, intelligent motion detection and tracking, as well as sound and light alarm functions. This product is commonly used for monitoring indoor environments such as homes, shops, offices, and classrooms. Users have the option to access the video either wirelessly or through a wired connection to the router.
Specification:
Hardware
Pan/Tilt
Horizontal rotation: 360°, vertical rotation: 155° (90° up, 65° down), support physical shutter lens
Ports
Storage: Micro SD card (Up to 128G, Class10 and above storage card)
Power: DC 9V=1A
Ethernet: One RJ45, 10M/100M auto-negotiation Ethernet port
Lens
4mm@F2.2
Button
Reset x 1
LED Indicator
Dual color (red & blue) LED indicator x 1
Antenna
Internal antenna
Product Size
103 mm x 88 mm x 88 mm
Video
Resolution
2560 x 1440
Coding Standard
H.265
Day and Night Shift Mode
ICR infrared filter type
Noise Reduction
3D digital noise reduction
DWDR
Support
Backlight Compensation
Support
ROI
Support
Wireless
Wireless Standard
IEEE 802.11b/g/n @2.4GHz
Wireless Rate
150 Mbps
Security
64/128-bit WEP, WPA/WPA2, WPA-PSK/WPA2-PSK
Others
Smart Alarm
S-motion detection & Human Shape detection
Alarm
Sound and light alarm
Audio
Full-duplex two-way audio
DIY Audio
Up to 3 personalized audio
Auto Patrol
6 preset patrol location
Infrared Night Vision Distance
12 Meters (40ft) (Depending on environment)
Temperature
Operating temperature: -10℃~ 50℃
Storage temperature: -40℃~70℃
Humidity
Operating humidity: 10%-95%RH (non-condensing)
Storage humidity: 3% ~ 95%RH (non-condensing)
Certification
CE, RoHs, FCC, RCM
Package Contents
1x Security Pan/Tilt Camera
Power adapter
Wall-mounted accessory kit
Quick installation guide
"Enhance Your Home Security with the Tenda CP7 Security Pan Tilt Camera"
Crystal Clear HD Visuals: Witness Every Detail
– Capture Moments with Clarity
The CP7 security camera utilises advanced 4MP image sensors, delivering high-definition HD videos with a resolution of 4MP (2560*1440). This enhanced resolution ensures sharper images, reduces noise, and captures more intricate details for improved video quality.
The wireless WiFi camera delivers crystal clear visuals, allowing you to capture every detail with precision. Whether you're monitoring your home, keeping an eye on your pets, or ensuring your little ones are safe, the CP7 camera provides unparalleled image quality, ensuring nothing goes unnoticed.
Intelligent Pan and Tilt: Your Eyes, Everywhere
– 360° Coverage, Total Control
Empower yourself with complete control and visibility over your surroundings. With its intelligent pan and tilt functionality, the Tenda CP7 Security Pan Tilt Camera offers a 360° horizontal field of view, 65° down (vertical), 90° up (vertical) allowing you to monitor every corner of your home effortlessly. Seamlessly adjust the camera's angle using your smartphone or tablet, ensuring you never miss a moment. Say goodbye to blind spots and embrace true peace of mind with this smart and versatile security solution.
Advanced Motion Detection: Stay One Step Ahead
– Instant Alerts, Smart Tracking, Human Shape Detection
The Tenda CP7 Security Pan Tilt Camera is equipped with advanced motion detection and AI-Powered Human Shape Detection capabilities, giving you the upper hand in safeguarding your property. The camera's intelligent algorithms are designed to accurately detect even the slightest movements, instantly notifying you through push notifications on your mobile device.
Based on the AI machine vision algorithms, the "Smart Tracking" can automatically tracks the movements and store the video. Be it an unexpected visitor or an intruder attempting to breach your security, the CP7 camera keeps you informed, enabling you to take timely action and protect what matters most.
Secure and Seamless Remote Access: Peace of Mind on the Go
– Two way audio, Your Home at your Fingertips
CP7 Smart Camera features a remarkable function that allows for real-time, full-duplex two-way audio communication. This means you can easily chat with your family members at any time and from anywhere, delivering heartfelt greetings to your loved ones.
Whether you're at work, running errands, or on a vacation, stay connected to your home at all times. Simply access the user-friendly mobile app from anywhere, and effortlessly view real-time footage, playback recorded videos, or customize camera settings. The CP7 Smart IP camera offers a secure connection, ensuring your privacy remains intact while you stay in control, no matter where life takes you.
Two Storage Choices
– Micro SD, Cloud Storage
Videos can be conveniently saved in either a local Micro SD card or Cloud storage. In the unfortunate event of vandalism or damage to your devices, you can still access your recorded videos through the cloud storage option.
Designed for Convenience: Simplifying Your Life
– Three Simple Steps Easy Installation and Internet Access
Download the TDSEE App
Turn on the Tenda Security Pan/Tilt Camera
Launch the App and follow the provided instructions to establish an internet connection for the camera
Setting up the Tenda Tenda CP7 Security Pan Tilt Camera is a breeze. With its Smart wireless design, you can easily install it in any location within your home. Whether you want to mount it on a wall or place it on a shelf, the camera's compact and versatile design allows for effortless placement. Choose the perfect spot to maximize your surveillance coverage.
Connect effortlessly to your home WiFi network and start monitoring within minutes. The user-friendly mobile app allows for easy navigation and control, putting the power of security in the palm of your hand. Embrace a hassle-free experience and take charge of your home security effortlessly.
Protect Your Privacy
– Safeguarding Your Personal Information
Our advanced encryption technology employs AES128-bit encryption for enhanced data transmission security.
The camera automatically tilts downwards upon the master's arrival, activated by a simple tap on the mobile application.
Data transmission security is upheld through encrypted channels, utilizing AES128-bit super encryption.
Cloud data encryption is implemented, meeting the stringent ISO/IEC 27018 security certification level and successfully passing the "World's Strictest" data security audit.
Versatile Mounting Options
– Desktop, Ceiling, and Wall
The Tenda CP7 Security Pan Tilt Camera offers flexible mounting options to suit your needs.
It comes with a separate "Base" that allows you to conveniently place the camera on a desktop or the top of a wardrobe, among other suitable surfaces. Additionally, you have the choice to install the "Base" on the ceiling or wall. By securely attaching the "Camera" to the "Base" and rotating it approximately 40°, you can achieve the desired angle. When installing the CP7 on the ceiling, the screen rotation function in the app becomes essential for optimal viewing.
Frequently Asked Questions (FAQs):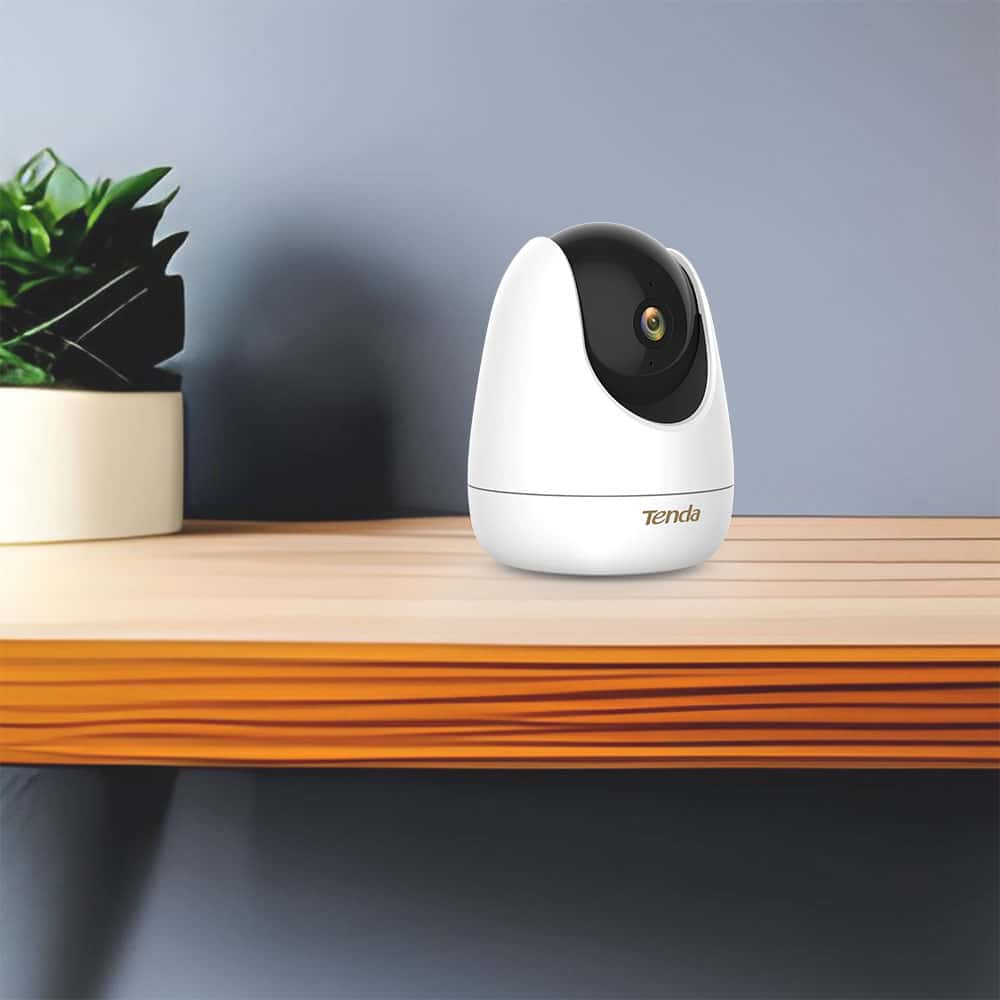 Q: Can I access the camera feed from my smartphone?
A: Absolutely! The Tenda CP7 camera is equipped with wireless WiFi connectivity, allowing you to access the feed remotely through your smartphone or tablet.
Q: Does the camera have night vision capabilities?
A: Yes, the camera features infrared LEDs that provide clear visibility even in complete darkness, ensuring your home is protected 24/7.
Q: Is it easy to install the Tenda CP7 camera?
A: Yes, the camera is designed for easy setup, allowing you to get started quickly without any complicated procedures.
Package contains: