Powerline 600 triple pack UK Pack of 3 Powerline Adapters
Code: POWERLINE-600-TRI-UK
The Powerline 600 Triple Pack, encompassing three Powerline 600 adapters, facilitates the effortless establishment of a high-speed home network using your home's pre-existing electrical infrastructure, achieving speeds of up to 600 Mbit/s. This eradicates the necessity for additional wiring. Seamlessly connect computers, consumer electronics, and network-compatible devices to the Internet in any room or floor within your residence by leveraging the power outlets. The process is straightforward: initiate by connecting one Powerline 600 adapter to your internet modem through an Ethernet port. Subsequently, your Internet connection becomes readily accessible from any power socket by utilizing the second and third Powerline 600 adapters within your chosen rooms. Additionally, each Powerline 600 adapter is thoughtfully furnished with an additional noise-filtered power socket, ensuring optimal utilization of power outlets without any wastage.
Performance

Triple Pack of 3 Powerline 600 adapters
HomePlug™ AV standard
Speed up to 600 Mbit/s
Perfect for IPTV, HD video streaming and gaming
Works with any standard Modem or Router
Coverage & Reliability
Range of 300 meters over electrical circuit
Automatic power saving mode reduces consumption by up to 85%
No configuration! No expertise required!
Plug & Play installation in a minute
Security
128 bit AES encryption for network security and data protection
Connect & Secure button for an optimum network security
Connections
Integrated extra power socket with power output of up to 16 A
1x Ethernet LAN port to connect any computer, set-top-box, Smart TV, game console
Technical Specifications:
HARDWARE
Frequency: 2 MHz ~ 68 MHz
Standards: HomePlug™ AV, IEEE 802.3, IEEE 802.3u
Interface: 10/100M Ethernet
Power Socket Interface: 250 V AC 16 A max.
Buttons: Connect & Secure/Reset
LEDs: Power, Powerline, Ethernet
Power: 100 – 240 V, 50/60 Hz
Security: 128 bit AES
Range: Up to 300 meters over electric circuit
Size in mm (WxDxH): 60 x 73 x 117
Weight in kg: 0.16 kg
OTHERS
Certification: CE
Package contents:
3x Powerline 600 Adapters, 2x Ethernet cables, Installation instructions, Warranty Card
System requirements: Windows 7, 8, 8.1, 11, Mac OS X, Linux, Internet Browser
Environment: Operating temperature: 0 °C ~ +40 °C
Storage temperature: -40 °C ~ +70 °C

Operating humidity: 10%~90% non-condensing

Storage humidity: 5%~90% non-condensing
EAN
Code: 9120072375477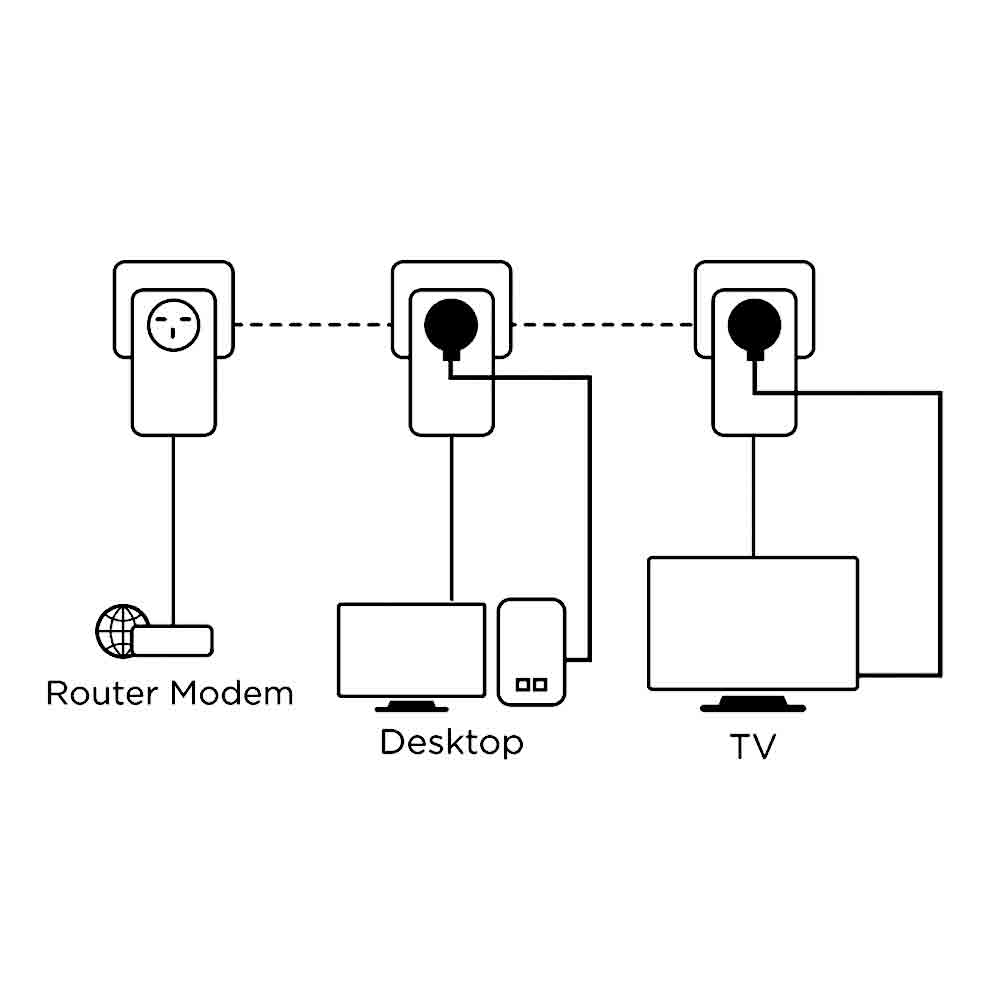 _____________________
What are Powerline Adapters?
Powerline adapters are ingenious devices that enable you to extend your network connection through your existing electrical wiring. They essentially transform your home's electrical grid into a data delivery system, allowing you to access the internet from any room with a power outlet.
How do Powerline Adapters Work?
Powerline adapters work on a simple principle: data transmission through electrical circuits. Here's how they operate: