Ajax MotionProtect (White) PIR Motion Detector Wireless Security Alarm System
Code: 22940.09.WH1

Ajax Motion Protect (White) is a wireless motion detector that notifies the owner of the first signs of home or office intrusion. The detector is fastened to the wall in front of the doors and other places likely of intruder entry.
Security Grade 2
Authentication to prevent forgery
Jamming detection and communication channels encryption
Tampering Alarm
Accurately detects motion in heat conditions, even at a temperature of +40°С
Ignores cats and dogs with weight of up to 20 kg and height up to 50 cm
Operates up to 5 years without battery replacement
Principle of operation
The Alarm system detects human presence by IR level using a passive IR sensor. The data received is digitally processed in order to prevent false alarms.
Features
The device automatically increases or decreases the sensor sensitivity in order to accurately detect motion during hot and cold weather.
Installation and set up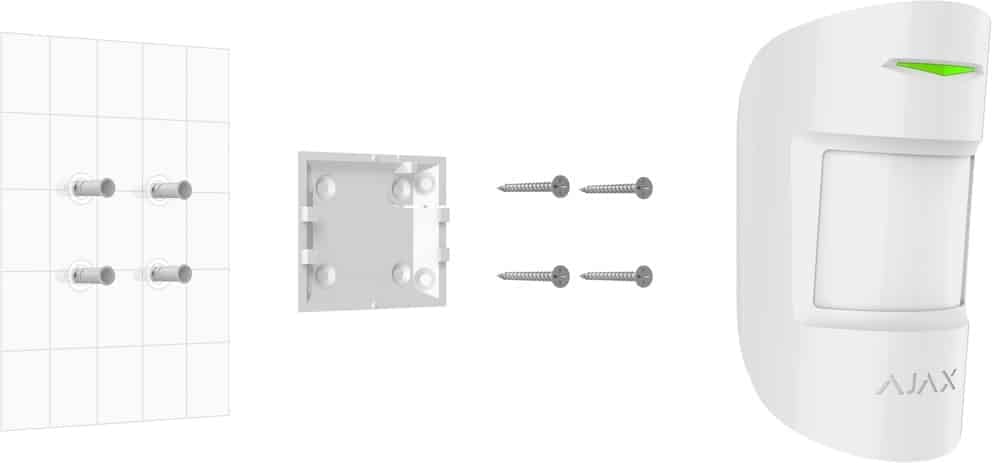 Ready to operate straight out the box: the battery is already installed, therefore there is no need to disassemble the detector. With one click, it can be connected to the hub in the mobile application.
Specification:
Classification

Electro-optical radio channel security detector

Detector type

Wireless

Colour
White
Installation

Indoors

Motion detection distance

Up to 12 m

Pet immunity


Weight: up to 20 kg
Height: up to 50 cm

Compatibility

Operates with all Ajax hubs

Sensing element

PIR sensor

Detection angles


Horizontal — 88.5°
Vertical — 80°

Alarm signal delivery time

0.15 sec

Sensitivity

Adjustable, 3 levels

Recommended
installation height

2.4 m

Power supply

Batteries: CR123A, 3 V

Battery life

Up to 5 years

Jeweller radio technology

Communication range with detectors: up to 1,700 m in the line of sight
Two-way communication between devices
Operating frequencies: 868.0 – 868.6 MHz
Self-adjusting RF output power: up to 20 mW
Block encryption based on AES algorithm
Detector polling period: 12−300 s
Frequency hopping

Temperature sensor


Available

Operating
temperature range

From -10°С to +40°С

Operating humidity

Up to 75%

Anti-sabotage

 

Protection against fraud
Jamming detection
Tamper-resistant

Dimensions


110 × 65 × 50 mm

Weight


86 g

Certification

Grade 2, CE